Welcome to Arkansas...
Thursday morning we packed up the camper and bikes and headed to Arkansas for the Syllamos revenge. Thursday was perfect, nice weather, trails were dry. So we got in some good biking and hiking.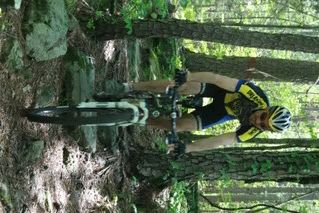 Friday morning brought us some nice big storms and a couple of inches of rain, luckily Lucas brought a nice supply of toys for us to play with while we waited out the storm.

Saturday morning I woke up completely jazzed and ready to race. Me and Chris did the big climb to warm up, this climb is so much fun! I think I missed pretty much the racers meeting, there was no way I could sit still for that, my legs and brain were saying go time!! So luckily enough before I knew it we were hauling ass down the road. I had only one thought in my mind and that was a set time I wanted to beat and I was ready to do whatever it took to get it done. I knew the average I needed, what HR to maintain, and pretty much pre-road most of the course on Thursday and Friday. The simple thing is though, what makes this course so much fun is as much as you go there to race first priority should be to finish. This place can eat you and your bike real quick if you let it.
The start was perfect, got up front as quick as possible, hit the climb hard. Last year Eric and Chris was right there with me and ended up following them into the single track. This year there was nobody close, kind of freaked me out a bit. I headed into the single track riding a comfortable pace, keeping the HR rate in check everything was going perfect. I have to admit being out front was kind of nice, I was picking good lines taking my time through some of the rocky sections that I would normally bomb down and staying pretty smooth.
At just a little over an hour into the race I guess I hit a pretty sharp rock because my tire went to the rim before I could even think about trying to get the Stan's to seal it. I will keep this short co2 wasn't totally full so I had to use a pump to finish it off, when I pulled the pump off the stem, the stem came with it, bad luck! Things didn't get much better, wiped out both the tubes I had pretty quick and was thinking man I don't really want to walk the next 38 miles or so to finish. I am still amazed at how much most people wanted to help, and it didn't take to long for somebody to come by with a extra tube, I have the first two peoples faces in my head that helped me but for the life of me cant remember your names, sorry I just hope you know how much I appreciate it. At one of the flats I couldn't get my pump to work and none other than one of the Seagal boys hooked me up, I don't think I was ever so stoked to see that tire fill up.
So I was off again, made it about halfway around the green loop when I flatted again. This one bummed me out I thought for sure I would be walking back. Sat down on a rock watching people go by. Pete Goode came by and asked if I needed help. I told him I needed a tube and a pump, which it is one thing to give up a tube in a race like this let alone hang around while I use your pump he also let me use his c02 very cool dude, I owe you big because that is what finally got me to the finish. I think I was more motivated than ever at this point, I never quit worrying about flatting again but I also never quit racing either. I put every bit of effort into this race that I had trying to make up time when I could and still keep air in the tires! Didn't finish in the time I wanted to but man I am just stoked I finished. This race will always be my favorite place to race because of all the challenges it brings.
In the end the single speed guys dominated this race with Matt Keeven leading the way, congrats to you guys. Chris was enjoying flats almost as much as me, and Robert had a whole lot of problems going on with his bike but both still finished. great job to Mark and Scott also for finishing this one.
souvenirs!! hope I never see this many flats in a race again.
My support crew...